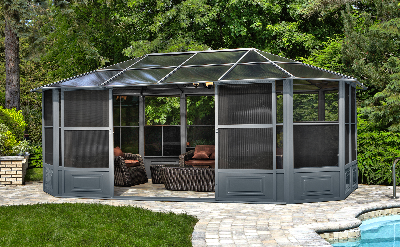 300$ à 500$ d'économie sur Florence Solarium et sur Florence Add-a-Room
Prolongez la jouissance de votre espace extérieur avec notre solarium. Cette unité peut être laissée en place toute l'année, ce qui vous évite d'avoir à monter et démonter à la fin de la saison. Le solarium est construit en aluminium extrudé et comprend un toit en polycarbonate renforcé, 1 porte coulissante double et des panneaux anti-vent à 5 positions. Cet appareil a été soigneusement conçu pour résister à l'exposition à la pluie, à la neige et aux rayons UV agressifs. Cet article n'est pas isolé mais vous pouvez toujours profiter de l'espace salon supplémentaire pour accueillir vos amis et votre famille lors de diverses festivités sociales et de journées de détente au spa lorsque le temps le permet.
Extend the enjoyment of your outdoor space with our solarium. This unit can be left up year round, saving yourself the trouble of assembling and disassembling at the end of the season. The solarium is constructed of extruded aluminum and features a reinforced polycarbonate roof, 1 double sliding door and 5-position wind panels. This unit has been carefully designed to withstand exposure to rain, snow and harsh UV rays. This item is not insulated but you can still enjoy the extra lounge space to accommodate friends and family during various social festivities and relaxing spa days when the weather allow it.